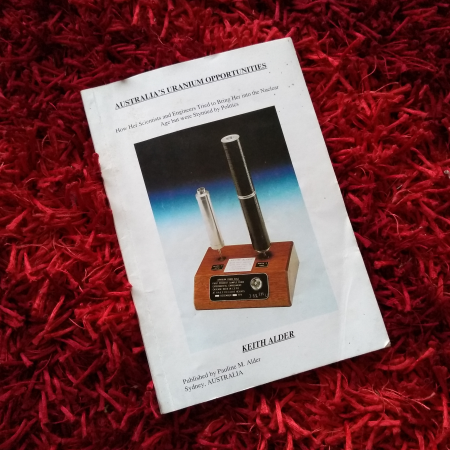 This is not, strictly speaking, an episode of Going Fission.  There is no interviewee.
This is a reading of Australia's Uranium Opportunities, the memoir of the Late Keith Alder, who we will get to know in due course.
I originally found his book in the UNSW library in 2016.  It felt like I'd found a lost piece of Australian History, and in a way I have.  It was privately published by Keith's Wife, Pauline, I don't know how many were printed, but it is a difficult book to source.
It tells the story of the Australian Atomic Energy Commission, and it's contribution to Australia's history in nuclear science, through the experience of the Author.  It is not a story that culminates in a great victory, and many listeners will likely recognise much of the resistance that still exists today.
I must offer thanks to several people for their assistance in getting me to this point.  John Harries was my first point of contact, and was able to put me in touch with Brian Hickman, both of whom knew Keith.  Brian was able to get me in touch with the Alder family and has loaned me his personal copy of the book for this project. Thank you.
Thanks must also be extended to Andrew, Robert and Graeme, Keith and Pauline's sons.  It is by their enthusiastic permission that this project can be undertaken. Thank you and I hope this endeavour finds your fathers work a new audience.
A final thank you to Maurer family funerals and those of you on the twittersphere who also assisted in the search.
My plan at this point is to release Chapters of this audiobook on weeks alternating between regular Going Fission interviews.  Upon completion, I plan on making the whole recording available online, free of charge.
I hope you enjoy.
Timestamp
0:00 - Readers Introduction
1:54 - Book Blurb
4:19 - Author's Comment
5:12 - Dedication
5:46 - Acknowlegments
6:31 - Forward by Sir John Proud Kt.
9:24 - About the Author
10:54  - Chapter 1) Introduction, Why Is This Book Necessary?